Philippine Troops Say Vietnamese Captives Found Beheaded



The Philippine military says its troops have found the beheaded bodies of two Vietnamese sailors abducted a year ago by the Abu Sayyaf militant group. The bodies were found Tuesday morning near the southern island of Basilan, an army spokesman said. "Our troops found the headless bodies after local residents alerted us about the cadavers," Capt. Jo-Ann Petinglay told reporters. The victims were identified as Hoang Thong and Hoang Va Hai, both sailors of the ship MV Royal 16. Three more Vietnamese captives are still being held by the Islamist militant group, in addition to at least 11 other foreign captives.

http://www.reuters.com/article/us-philippines-militants-idUSKBN19Q0DS?il=0&via=newsletter&source=CSAMedition
_________________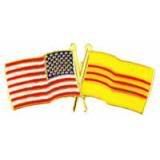 Công Hòa Viêt-Nam Muôn Nam!