Despite campaign promises...



Assad Not Impressed With Trump's Efforts to Fight the Islamic State



Syrian President Bashar al-Assad said he hasn't seen President Donald Trump's administration take any real steps to defeat the Islamic State, despite Trump's strong rhetoric on the matter during his campaign. Assad made the comments in an interview with a Chinese TV station aired Saturday. Although Trump had offered "a promising approach" in making the fight against IS a top priority during his campaign, Assad said, Trump has yet to live up to all his hype. "We haven't seen anything concrete yet regarding this rhetoric," he said. He went on to dismiss current U.S. operations in Syria against the terrorist group as "only a few raids," but expressed hope that Trump's White House would "implement what we have heard." As for the U.S. deployment of troops to Manbij – where they are meant to be keeping Syrian forces from carrying out attacks on the rebel territory already liberated from IS – Assad said the measure is unlikely to help. "Any foreign troops coming to Syria without our invitation ... are invaders," he said. U.S.-led coalition forces have been battling IS in Syria for more than two years now, but Trump had boasted that he would be able to do what his predecessor could not and eradicate the terrorist group by boosting U.S. forces there. Last week, a U.S. official who spoke anonymously to the Associated Press said a couple hundred more troops had been sent into Syria to prepare for a battle to retake Raqqa, a priority for both Syrian and U.S. forces.

http://www.thedailybeast.com/cheats/2017/03/11/assad-not-impressed-with-trump-s-efforts-to-fight-the-islamic-state.html?via=desktop&source=copyurl
_________________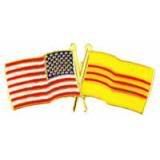 Công Hòa Viêt-Nam Muôn Nam!